When: everyday
Where: Via Cappello 23, Verona
Distance from Residence La Mason: 33 km, 38 minutes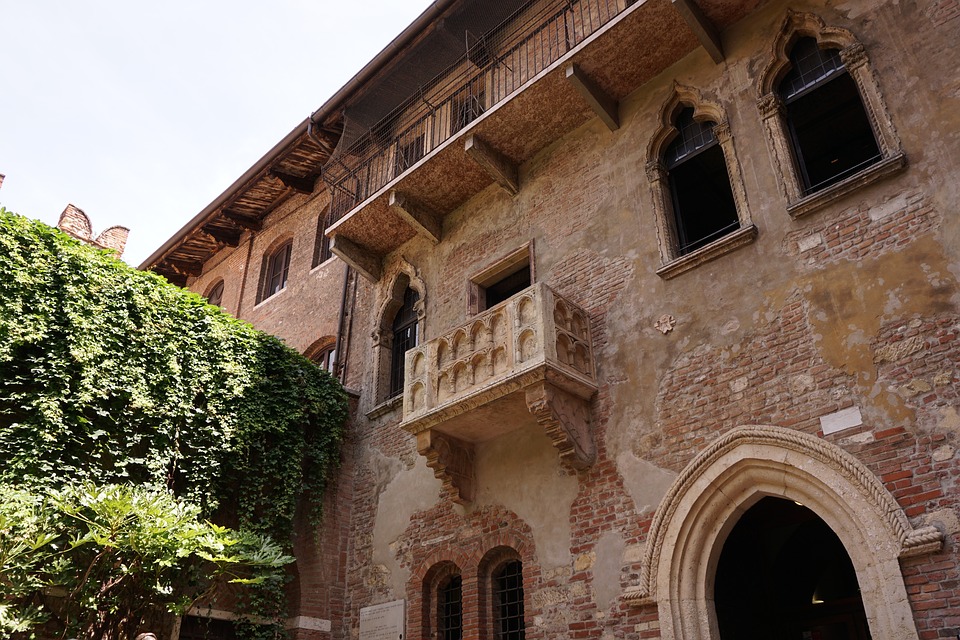 Juliet's house is one of the most interesting and evocative places in Verona, a few steps from the beautiful Piazza delle Erbe.
Visiting Juliet's house
It is a romantic medieval palace located on the ancient cardo maximus, the Roman road that now corresponds to Via Cappello. Of course, the reason why this place exerts an irresistible attraction on everyone is the legend that developed around Shakespeare's tragedy: Juliet Capulet, in fact, would have lived in this house and here she would have fallen in love with Romeo Montague. In reality, Juliet is a fictional character, but it is true that apparently the Cappelletti or Dal Cappello family (from which the surname Capulet derived) used to live in this building from around the thirteenth century.
You can access the building through an entrance hall that leads to a bright inner courtyard. On the keystone of the arch leading to the courtyard, you can see the coat of arms of Juliet's family, a hat. Furthermore, in the courtyard there is a bronze statue of Juliet made in 1969 by the Veronese sculptor Nereo Costantini. Since 2014, the statue displayed outdoor is a copy: the original one, which had been in the courtyard since 1972, has been moved to the atrium of the house.
Looking up, we see the famous balcony, from where, according to the tragedy, Juliet talked to Romeo.
You can also visit the interiors: in particular, the main hall where, according to the legend, Juliet and Romeo first met during a ball, is very appreciated, as wells as Juliet's bedroom, which was also part of the famous Zeffirelli's film set. The building has also been restored between 1937 and 1940 under the direction of Antonio Avena with the aim of recreating the ancient Renaissance scenography: visitors will be able to admire the precious frescoes on the walls, the inlaid chests and the refined fireplaces.
Information for visitors
You can visit Juliet's house in Verona on Mondays from 13.30 to 19.30, and from Tuesday to Sunday from 8.30 to 19.30. Last entry is at 6.45pm. The building is closed to the public on January 1st and December 25th.
Full ticket price is €6.00, reduction admission for seniors over 60 is €4.50. The reduced ticket for children aged 8 to 14, if accompanied, is €1, 00 and admission is free for people with disabilities and their carers. From October to May, on the first Sunday of the month, the ticket is €1.00 for everyone (in case of current exhibitions, ordinary prices are applied).
You can also purchase a cumulative ticket that includes the entrance to the house and to Juliet's Tomb for €7.00 (full) or €5.00 (reduced).
For more information, please call the ticket office at +39 045 8034303.